balanced training has evolved from the trainers and coaches I have been blessed to work with, books read, horses met along the way and the experiences we have had.

balanced training is complete training, it involves filling in the gaps.

Developing clear communication makes all riding more fun. This type of training helps the jumping horse become more supple and obedient, the dressage horse fresh and wanting to work. Positive training that builds a trusting relationship.
"It is my belief that consistency and balance are the most important part of any training program. That horses and riders stay sound in mind and body longer, enjoy their sport more and are safer when they are involved in a balanced program.

In this information age that we live in today, there has never been a more exciting time to share information across the many disciplines, for the betterment of our overall horsemanship." LN
---
---
PROVIDENCE
"God as prescient guide and guardian of human beings
~ provides ~
divine care and guidance"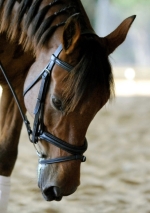 Providence Ranch
balanced training
riding school
camps & clinics
boarding
facility
our team
horses available
contact info
resources