Our Team

It takes a team to be successful at anything in life. Here at Providence Ranch we ride together, learn, experience, show and have fun together. Our team is made up of young and adult riders, owners, instructors, trainers, vets and farriers. Everyone plays an important role in the training and wellbeing of the horses.


---
Laurinda Norwood

Horses were my first teachers and riding began in the farmlands and mountains where I grew up. During that time my confidence in the character of the horse was built. Formal education began at Meredith Manor where we were able to ride many different horses and explore different disciplines. It was here that I realized dressage is the base for all training.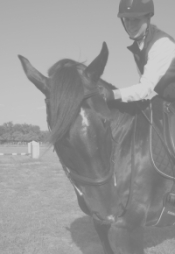 Since then pursuing the ability to help horses achieve their potential, be their advocate, watch out for them and even at times protect them has become my passion. Horses remain my teachers today, there is something to learn from each one. In 2005 we opened our own facility promoting what I have come to call Balanced Training.

Why correct dressage training is important to me?
It combines all of my core beliefs about riding and training. The horses are never compromised, they are put first. Each ride improves their trust in themselves and in their rider as leader of the team, increases adjustability, encourages the horse to have input good or bad and allows them to let go and go to work.

Complete training improves the horse physically thru proper gymnastic training, mentally by engaging them in the process and looks after their emotions. It allows you to gain access to them which presents opportunities to create countless pictures.

Training this way can improve any horse and creates a path to reach their maximum potential. I am happier, my horses are happier and my students are happier when we go about things this way.
---
Julie Smart

I began my love of horses thanks to my best friend in school. She owned horses and wanted me to come meet them. I found them to be beautiful powerful creatures with a mind of their own. The thought of getting to know them was a little scary. She soon taught me about how they think and act. I was hooked from then on.

I started my training at Rosebrook Equestrian Center in England. I trained there and got my British Horse Society Assistant Instructors Certification. I then went on to set up my own riding stables in England where I taught dressage and jumping. I ran my stables until my husbands job moved us to Germany.

In Germany I continued to gain experience with horses. With my mare a Thouroughbred/Shire cross we competed. Tests are required in Germany in dressage, jumping and stable management. Exams are hard enough, but in a lannguage I didn't speak, well it was almost impossible. I didn't let that hold me back. I really enjoyed my seven years in Germany and learned a lot.

We then moved to the United States where I have been for the last ten years teaching and helping students to compete their horses. I have always found that dressage is a good foundation for anything you want to do with your horse. I always work towards riders getting a good balanced position to help with good communication with their horses. I am now the proud owner of two arabians. My passion for horses would not be possible without the help of my husband Neal and son Liam who is the reason I now own my arabians.

Providence Ranch
balanced training
riding school
camps & clinics
boarding
facility
our team
horses available
contact info
resources